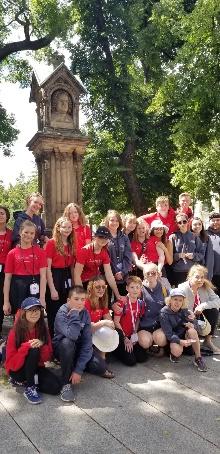 We were lucky to have a bit of a later start today, leaving the hotel at 9:30 for a walking tour of Leipzig. On the tour, we saw quite a few prominent places including the university, the stock exchange, and some of the stunning buildings, along with some statues of Bach and Mendelssohn. 
After our tour we headed to St. Thomas church; the last resting place of Bach. While there we were invited to sing in a short prayer service. We then sang a 20 minute concert for the people inside the church. Followed by a more intimate performance of the Bach Aria around the grave of Bach. Which was in the center of the sanctuary inside the church. 

Outside the church, there was a string duo busking. (The same duo that some of the youth choir had met the night before.) They recognized the group and asked us to sing as a whole choir with them. We sang what we could remember of Ave Maria and were very we received by passers by. 
Pearson then asked the violinist if he could play her violin, she agreed and was cheering him on the whole time.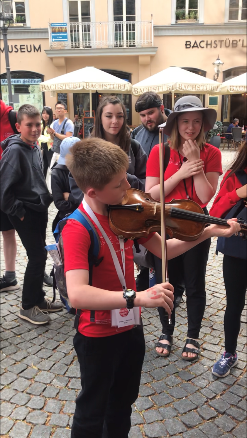 After our performance with the string duo, we went back to the square in which our hotel was located. The group then had free time for the entire afternoon before dinner. We broke off into groups with our chaperones for lunch, and some additional sight seeing, although a few groups went on a walking tour of Leipzig with our tour guide Gabi and Ms. Strome.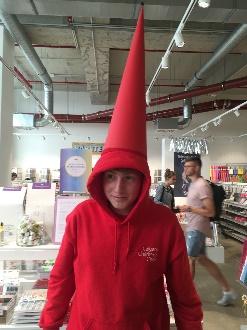 After the free time, we went for a delicious steak and chicken dinner. We all made bets on whether it would be steak or chicken, and were pleasantly surprised to find both!
The chaperones took us on a detour on the way back to the hotel and stopped us in a green space where Josh led us in some tag games and campfire songs.
On the way back to the hotel there was a man who asked where we were from and got very excited when we said Canada. He said he has friends in Canada and that he spoke French. So we spoke with him in French then sang a song for him and he was so thrilled. He told us that he will remember this day forever, I think most of us will as well.
Today was a great day in Leipzig and we can't wait to head out to Berlin!
Hannah, Kalika, and Gabriel.