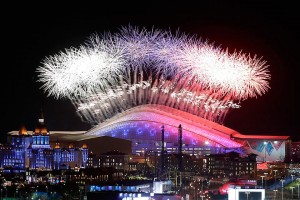 The Opening Ceremonies of the Olympics are often a great occasion to demonstrate fun and unique choral music. In celebration of the Opening Ceremonies of the XXII Winter Olympics in Sochi, Russia, here is a look at some of the great choral music from the Olympics!
Calgary Winter Olympics 1988 – Can You Feel It:
And check out this video from the CBC Digital Archives about the Calgary Winter Games!
Atlanta Summer Olympics 1996 – The Power of A Dream:
Sydney Summer Olympics 2000 – The Flame:
http://www.youtube.com/watch?v=XFy_s1-YrIE
Torino Winter Olympics 2006 – Nabucco Va Pensiero:
http://www.youtube.com/watch?v=J5OfG5DABRM
London Summer Olympics 2012 – Caliban's Dream:
Sochi Winter Olympics 2014 – Daft Punk – Get Lucky:
http://www.youtube.com/watch?v=8Np5rP5vBMI
So, what are your favourite choral moments from Olympic Opening Ceremonies? Tell us in the comments below!