In preparation for our upcoming concert, Songs of the Cinema on May 10th 2014, we are starting a blog series of the same name, which will focus on a different aspect of 'movie music' each week!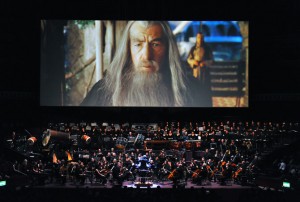 A film orchestra is a very specialized type of ensemble musical group. For the most part, orchestras that have been assembled to record the score for a film do not perform in public.  For the most part, the specialty of a film orchestra is to record in studio the music that has been composed for a film.
During these recording sessions, the studio is filled with sound recording equipment, in order to capture the best sound, and minute details. In most cases, the film is projected onto a large screen in the recording studio. This adds greatly to the performance from the musicians. Film orchestras require a level of precision and technicality that greatly enhances the performances from the actors on the screen.
Here is a great video demonstrating the scoring, and recording of the music from Canadian composer Howard Shore for the movie The Hobbit:
Here is a similar video from Star Wars composer, John Williams:
https://www.youtube.com/watch?v=K0ezvZo2AWc
An interesting area in which orchestral recordings is developing is in the music for video games. Here is a video looking at the music, and orchestral recording for the Harry Potter video game:
For those interested, this is a very informative blog that takes a look at scoring for film. It has some fascinating insights into sound recording, and orchestral film recordings.
What do you think of film orchestras? Tell us in the comments below!