We are very excited this year to be sharing our annual Christmas concert, A Child's Carol, with the professional vocal group; VoiceScapes!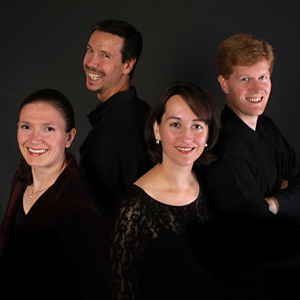 VoiceScapes is a four member vocal group that was formed in 2000. Their members have extensive experience in vocal music, and we have been very fortunate to feature two of its members, Christina Jahn and Paul Grindlay in concert with us before! Throughout their 15 year history, Voicescapes has performed across Alberta, collaborating with a variety of Canadian musicians, in diverse vocal performances, including: the Early Music Voices Concert series, and performance with the Alberta Baroque Ensemble, the Red Deer Symphony, and the Calgary Philharmonic Orchestra.
You can check out recordings by Voicescapes  here!
We are thrilled to be presenting The Christmas Miracle of Jonathan Toomey with Voicescapes, on Saturday December 13th, 2014, and we hope you'll be able to join us!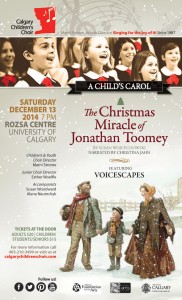 For ticket information regarding our Christmas concert, contact our business manager, Linda White.
The Calgary Children's Choir will also be joining VoiceScapes on Sunday, December 21st, for their 13th annual Sing Along Messiah! We would love to see you there! Ticket information is available here.
Are you looking forward to this year's Christmas musical celebrations? Tell us in the comments below!