We started our day at 9:00 in the morning, when we got on our tour bus to go to the El Prado Museum. We were all very excited because we had learned a bit about some of the paintings during our rehearsals in Calgary. While we were there, we all got to see some really interesting painted master pieces and detailed sculptures. Most of us got a few things from the gift shop and then we all headed out for lunch.
We walked to a little bistro in down town Madrid; some of us tried something a little different and got gazpacho (a cold vegetable soup that is a traditional dish in Spain), along with our choice of sandwich and drink. Then we had roughly three hours to wander around exploring and get that 'shopping bug' out of our system, or we could stay at the hotel and rest.
Later on in the evening all of the choristers got all dressed up (Yay! No uniforms!),  and gathered in a room in the hotel to do a small skit night, and present chaperone gifts and a gift for our lovely guide, Adriana Matich. It quickly turned very sentimental when the choir sang one of our favourite pieces, All Too Soon  for all of the choristers who wouldn't be returning to choir next year.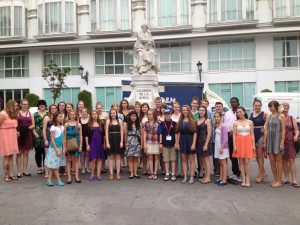 After we had composed ourselves, we walked to Tablao Villa-Rosa for a nice celebratory dinner, and a flamenco show! Dinner was another traditional Spanish dish; paella, and it was delicious! Then we were treated to an AMAZING show.  Three very talented dancers (2 female 1 male), an amazing traditional Spanish singer, and a fabulous guitar player were all part of the act. The costumes that they wore were very authentic, and one of the female dancers was sweating so hard during her piece that her eye makeup was running in rivers down her cheeks. Every single one of the dancers, and especially the singer, were so very passionate in their performance; they were truly singing (and dancing) for the joy of it!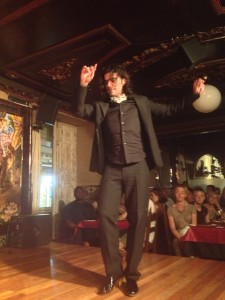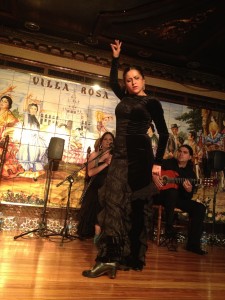 We are all sad to leave Spain and end this amazing choir tour. We have all had a truly wonderful time full of fun, friends, and beautiful music!  We are looking forward to a safe trip home, and are very excited to see our families!
– Kyla Fradette, Emma Kostynuik, Megan Link, Heather Louden