As our Spanish folk concert approaches, we are getting very excited about many of the interesting elements of Spanish culture that our touring choir  experienced on our recent trip to Spain. One of those elements was the Spanish tradition of Flamenco!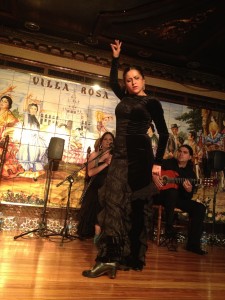 Many people associate Flamenco with a style of dance, but that's just one aspect of it. Flamenco comes from the Andalusian region of Spain and it incorporates singing, dancing, guitar playing, and hand-clapping! It is a form of Spanish folk music, that is often associated with the Romani people of Spain.
Stylistic features of the dance aspect of Flamenco include, stamping of feet,  hand-clapping, and great use of both the arms and feet. It is a very passionate and exciting form of dance!
The musical aspect of Flamenco is very interesting, because it is modal. Flamenco generally uses the Phrygian mode. The music is often structured as a set of verses, interspersed with guitar solos. In Flamenco recitals, these solos can also be accompanied by the Flamenco dance. Thus, there is a great deal of room for variety, and improvisation in Flamenco!
Have you ever seen Flamenco? What did you think?